The Detroit Skyline ride is a captivating helicopter ride providing views of Downtown Detroit, Canada, the Ambassador Bridge, Campus Martius, and the picturesque Belle Isle. The ride begins with a thrilling 360-degree turn around Detroit's iconic Little Caesars Arena, Ford Field, and Comerica Park, providing a unique glimpse into the heart of the city's sports culture. The highlight of the ride, however, is the awe-inspiring flyby of the GM Renaissance Center, a symbol of Detroit's resilience and triumph.
Read More

Throughout the flight, you'll enjoy unrivaled panoramic views of Detroit and its Canadian neighbor, Windsor, including a stunning view of the Ambassador Bridge.

The experience is further elevated by the inclusion of complimentary cups of champagne before or after your flight, all for an accessible price of $150 per person. With no evening surcharge, this adventure is not to be missed. The Detroit Skyline Ride promises an unforgettable journey into the heart and soul of the Motor City.
Included
What to expect on your flight.
Detroit Skyline Path
The general route your helicopter will follow.
All flight paths are subject to change due to FAA Regulations, weather, or other reasons deemed necessary by My Flight Tours. Please be aware that "GAME DAY ROUTES" will be in effect during all Detroit Tigers and Detroit Lions home games.
ICONIC SIGHTS ON THIS FLIGHT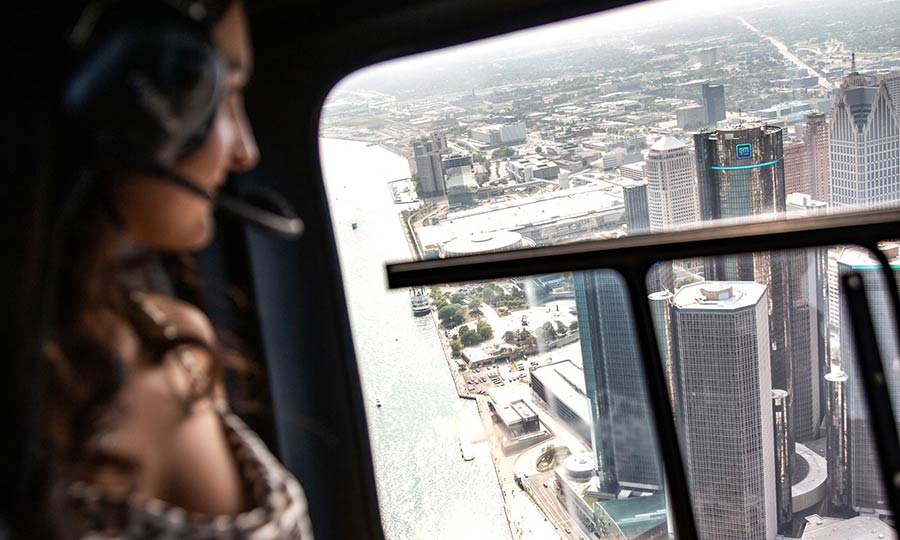 FROM THE PILOT'S SEAT
Get the pilots' take on the Skyline Tour
Detroit
Skyline Packages
Customize your flight experience.
Celebration
Package
$125
Enhance your experience with our luxurious package, offering professional photography and champagne to savor before or after your flight. Whether it's a romantic evening or a momentous occasion, our indulgent package is the perfect choice to elevate your experience.
Souvenir
Package
$100
Capture the memories of a lifetime with our exclusive package that includes professional photos, two stylish MyFlight t-shirts, and two MyFlight drawstring bags. These mementos are the perfect way to commemorate your bucket list experience and relive the thrill of your flight for years to come.
Birthday
Package
$200
Make your birthday celebration truly unforgettable with our personalized landing experience. As you touch down, 3-foot-tall "HBD" marquee letters will be waiting to greet you. Along with a thoughtful card and a commemorative birthday bottle of champagne, our expert photography team will capture all the special moments, ensuring that this birthday celebration will be remembered for a lifetime.
Love
Package
$200
Elevate your romantic getaway to new heights with our enchanting landing experience. As you touch down, your significant other will be greeted with stunning 3-foot-tall illuminated "I Love You" marquee letters, surrounded by faux floral display arrangements. Savor the moment with a commemorative bottle of champagne and let our skilled photographers capture each and every detail, ensuring that this romantic flight will be an unforgettable memory for years to come.
Flight Add-ons
A little extra dose of personalization.
Dozen Roses
Add-on
$80
The Rose Bouquet add-on is a romantic option for customers who want to surprise their loved one with a dozen long-stemmed roses waiting inside the helicopter. This is a great way to add an extra touch of romance to a special occasion or celebration. This add-on is the perfect way to show your love and appreciation to your partner and make the helicopter tour an unforgettable memory for both of you.
DOORS OFF
Add-on
$100
The Doors Off Package is an exhilarating experience that involves removing the doors of a helicopter during a flight. This package is perfect for thrill seekers who want to enjoy a unique and breathtaking view from above. For a fee of $100, passengers can enjoy a thrilling ride while feeling the wind in their hair and experiencing an unobstructed view of the landscape below. This package offers a unique and exciting way to see the world from a different perspective, and is sure to provide an unforgettable experience for those seeking adventure.
GOPRO
Add-on
$75
For an additional $75, you will receive a GoPro recording of your tour, capturing stunning aerial footage of your experience. This package provides a unique opportunity for you to relive your tour and share your adventure with friends and family. The GoPro package is a great way to enhance the memories of an already unforgettable experience.
Policies
General details before you lift off.
Before You Book
Here are a few guidelines all flights follow.
*Booking passenger must present the credit/debit card that was used to book the flight and a valid ID that matches the booking. If you are unable to present, you will be DENIED YOUR FLIGHT.
FAQ
See what our Detroit flyers typically ask.