Virtual Flight Experience included with
EVERY

ticket
Along with your personal helicopter tour of the Smokies,
experience the newly renovated Smoky Mountain location where every ticket now includes a captivating VR immersive journey through all the helicopter tours in the Smokies. Prepare to be astonished by our cutting-edge video walls that heighten your senses and provide a taste of flight, amplifying the excitement before you even take off.
The Smoky Mountain Winterfest ride ride is an enchanting and unforgettable way to immerse yourself in the mesmerizing magic of the Smoky Mountains' Winterfest display. Our exclusive Winterfest Flight will take you on an extraordinary adventure through the heart of the region, creating cherished memories that will last a lifetime.
Read More

This is no ordinary tour; this is a journey into a winter wonderland like no other. There are over 15 million lights, across 25 miles of Downtown Sevierville, Pigeon Forge and more. 

The adventure begins as you soar over Sevierville and Pigeon Forge, both central hubs of holiday cheer. From your vantage point in the sky, you'll witness the delightful transformation of these iconic places into festive masterpieces. The Winterfest lights illuminate the streets, creating a captivating and magical atmosphere.

As you fly above the Smoky Mountain Region, a twinkling sea of lights comes into view, casting a radiant glow upon the landscape below. . The beauty of the holiday season in the Smoky Mountains is on full display, and you'll have a front-row seat to this dazzling spectacle.

Our Smoky Mountain Winterfest ride isn't just a journey through twinkling lights; it's an invitation to become part of the holiday magic. Create a special memory with loved ones, capture stunning photos, or simply savor the pure joy of the season from a unique and elevated perspective.

So, this holiday season, treat yourself to an experience that goes beyond the ordinary. Join us for the Smoky Mountain Winterfest ride and let the enchantment of the region's Winterfest display take your breath away, leaving you with cherished memories and a newfound appreciation for the magic of the season in the Smoky Mountains.
Included
What to expect on your flight.
Smoky Mountain Winterfest Ride Path
The general route your helicopter will follow
All flight paths are subject to change due to FAA Regulations, weather, or other reasons deemed necessary by My Flight Tours.
ICONIC SIGHTS ON THIS FLIGHT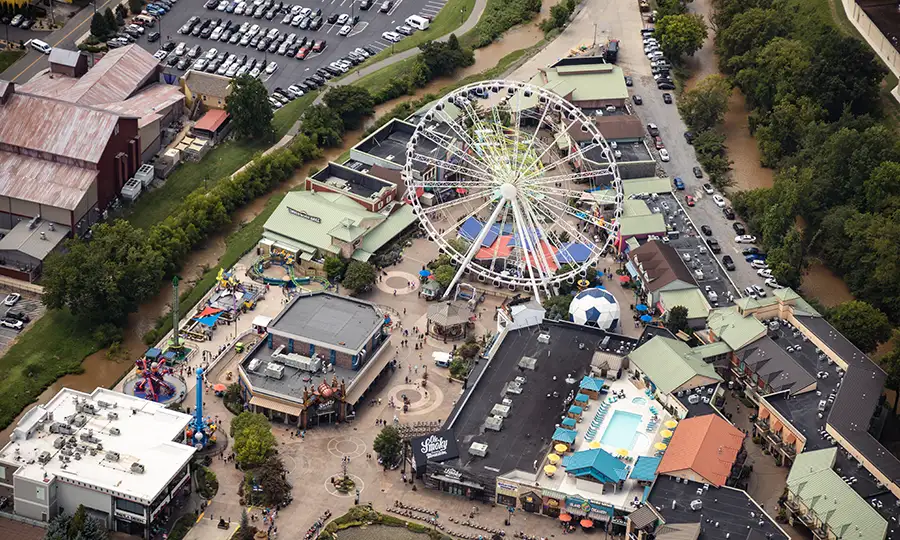 Policies
General details before you lift off.
Before You Book
Here are a few guidelines all flights follow.
*Booking passenger must present the credit/debit card that was used to book the flight and a valid ID that matches the booking. If you are unable to present, you will be DENIED YOUR FLIGHT.
FAQ
See what our Smoky Mountain flyers typically ask.